Recap of Gregory Lamberson on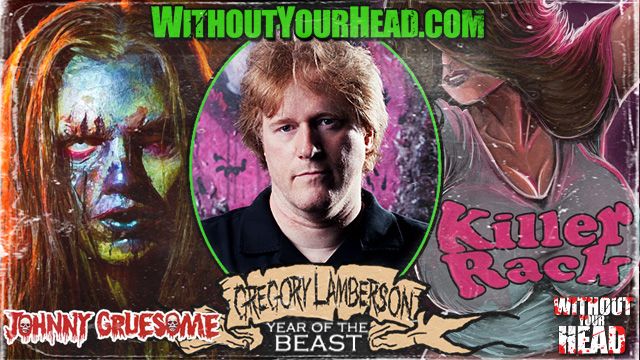 Host
Nasty Neal Lee Jones
welcomed American filmmaker and author Gregory Lamberson to Without Your Head Horror Radio.  Among the topics for discussion during an engaging 90-minute interview were his career, his cult classic "Slime City", and his upcoming movie "Johnny Gruesome" that has been over thirty years in the making.
Highlights included the following: 
WYH:  Your latest movie "Johnny Gruesome" is soon to be coming out.  For people not familiar with the book, what is it about? 
GL:  "Johnny Gruesome is a high-school kid named Johnny Grissom, and he's a heavy metal dude, and a horror fan, and a partier.  He goes out on a drunken joy ride with some of his friends, and he's really pissed off because he's been in a fight that day, and he's been suspended, and his old man is giving him a hard time.  Things get out of hand and one of his buddies ends up killing him, and just as they tend to do in these situations the other kids try and cover it up and make it look like an accident.  And because he's a horror fan, he comes back as a zombie of sorts to get revenge.  In truth, he's an angry spirit who quickly realizes that as a ghost he's impotent to inflict damage on people, and so he possesses his own corpse and puppets it.
And that's his means of revenge.  He walks around looking like a decomposing zombie, and he has the wisecracks and stuff.  You know, we're promoting it as based on this book that I wrote but in fact it's a script that I wrote way back in 1984; it was the second screenplay I ever wrote, right after "Slime City."